This is the Dragon 6904 kit in 1/35 scale, of the 'German DAK 15cm s-IG.33 aud Pz.Kpfw.III'.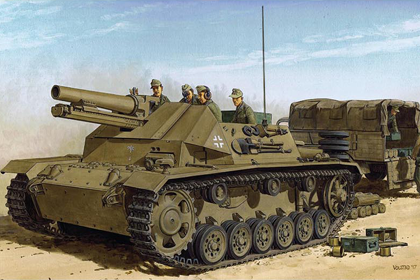 History
Germany created a wide number of self-propelled howitzers (SPH) during WWII, these typically being converted from existing tank chassis.
It represents a 15cm s.IG.33 auf Fahrgestell Pz.III which, as its name suggests, mated a 15cm field howitzer with a Panzer III chassis.
Field Marshal Erwin Rommel was seeking heavy artillery mounted on tracked chassis because horse-drawn or truck-drawn howitzers were impractical in the desert.
This SPH was used by the Deutsches Afrika Korps, specifically the 90 leichte Infanterie-Division, in North Africa. It first saw action in September 1942.
Manufacturer
Where I got it