This is the Dragon 6764 kit in 1/35 scale, of the 'German Pz.Kpfw.IV Ausf.B, mit Schneeräumer System Schmidt'.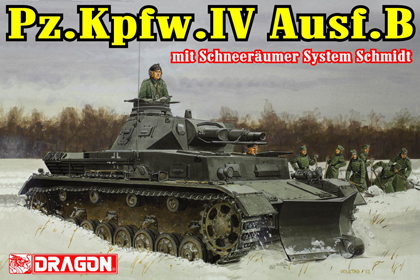 History
The Panzer IV Ausf.B – fitted with a snow plow. The Panzer IV Ausf.B still featured a short-barreled 7.5cm KwK37 L/24 main gun and an MG34 machine gun.
A crew of five operated the Sd.Kfz.161 tank, and it saw service in the 1939-40 campaigns in Poland, Norway and France, and also in the Balkans and in Russia from 1941 onwards.
A snow plow was very useful for winter combat in places like the Eastern Front, which was subject to extreme temperatures and large amounts of snow that severely hampered mobility.
Manufacturer
Where I got it