This is the Zvezda 3532 kit in 1/35 scale, of the 'Russian Tank Destroyer ISU-152'.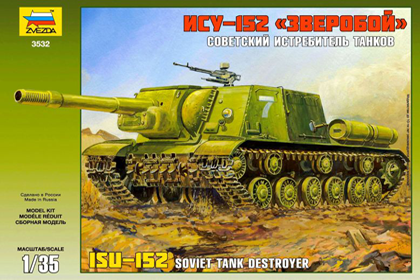 History
The ISU-152 marks its beginning on January 24, 1943. This was the moment of appearance of the first fighting vehicle of this family. It was designated Object 236 (Объект 236), using the same concept as the SU-152.
The Object 236 was completed in Factory No. 100 in Chelyabinsk, and on the same day, January 24, underwent trials on the Chebarkulski artillery range, 107 km from Chelyabinsk. By February 7, 1943 the trials were over, passed with success. On February 14 the vehicle was adopted and put on production under the KV-14 (КВ-14) designation.
In April 1943 was ordered KV-14 to be henceforth designated SU-152 (СУ-152). In time, the combat performance of SU-152, based on the KV-1S tank, made necessary the modernization of the vehicle, using the new IS tank as a base.
Manufacturer
Where I got it