This is the Zvezda 3535 kit in 1/35 scale, of the 'Russian Tank T-34/76'.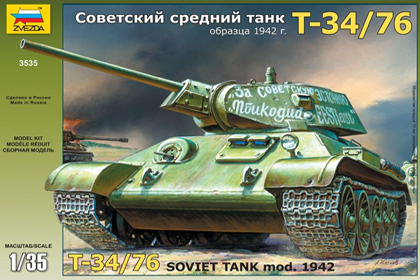 History
The T-34 had well-sloped armour, a relatively powerful engine, and wide tracks.
The initial T-34 version had a powerful 76.2mm gun, and is often called the T-34/76.
The T-34/76, like many other contemporary tanks, had a two-man turret crew arrangement. This required the tank commander to aim and fire the gun while having to coordinate with other tanks and potentially also being a platoon commander, and proved to be inferior to the three-man (commander, gunner, and loader) turret crews of German Panzer III and Panzer IV tanks, which allowed the tank's commander to concentrate solely on that job.
Manufacturer
Where I got it