This is the Tamiya 35 367 kit in 1/35 scale, of the 'German Heavy Self-Propelled Howitzer Hummel (Late production)'.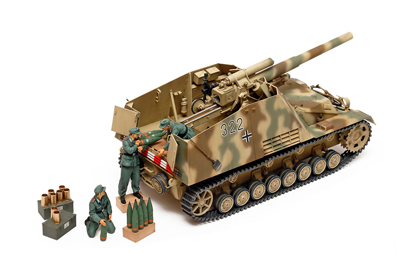 History
The Hummel was developed by German designers in short time, intended to provide a quick boost for troops that had begun to struggle in the aftermath of their invasion of the Soviet Union in 1941.
The chassis was a hybrid using parts from the Pz.Kpfw.III and IV, and the gun was the powerful sFH18/1 15cm piece that fired 43.5kg howitzer rounds distances up to and over 13 kilometers.
Hummels joined the fray from 1943 in the showdown Battle of Kursk, and served through the second half of WWII.
Source: Tamiya website
Manufacturer