This is the ICM 35462 kit in 1/35 scale, of the 'German Radio Communication Truck, Krupp L3H 163'.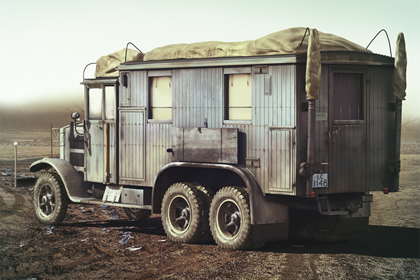 The once more improved model Krupp L3H 163 – which was propelled by the strengthened M 12 engine with 110 HP – was manufactured from 1936 to 1938.
Typical for the Funkbetriebskraftwagen – radio operating motor vehicle (Kfz.72) were the two windows on both sides of the box body and two radio masts on the rear of the box body.
Two Auffahrbohlen – supporting planks – were mounted on the left side of the box body while the eight rods of the 10m Steckmast – radio mast – were stored in special mountings on the right side.
Manufacturer