This is the Tamiya 35 317-2000 kit in 1/35 scale, of the 'German 6×4 Truck, Krupp Protze, Personnel Carrier'.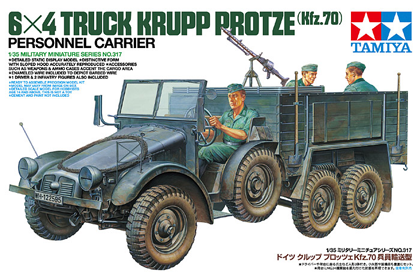 History
German's Early-WWII Best Partner
– The Sd.Kfz.70 was widely used by the German Army to transport troops and supplies during the early stages of the WWII.
It featured a sloped hood that housed a compact air-cooled inline 4-cylinder engine as well as rear double wishbone independent suspension which offered a superb off-road capability. The large cargo area was fitted with bench seats.
The Sd.Kfz.70s were produced from 1993 to 1942 and were widely deployed with infantry units, etc. Many of them deployed to frontlines were equipped with a tripod-mounted MG34 machine gun.
Manufacturer
Where I got it