This is the ICM 35467 kit in 1/35 scale, of the 'German Radio Communication Truck, Henschel 33 D1'.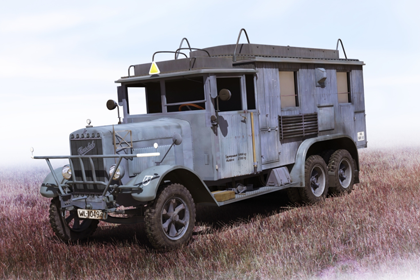 In the course of the first program for motorising the Reichswehr from 1926, development of three-axled cross-country lorries with a payload of 3 tons was demanded besides others.
Three companies were involved in the development: Büssing, Henschel and Krupp. The first Henschel model – the Henschel type 33 B1 – was delivered in 1928. The vehicles delivered to the Reichswehr had spoke rims with three spokes and dual tyres on the rear axles. In 1929, the Henschel type 33 D1 with the stronger D engine entered serial production.
Compared to the Henschel type 33 B1, the Henschel type 33 D1 had a longer engine bonnet.
Manufacturer