This is the ICM 35405 kit in 1/35 scale, of the 'German Truck, Mercedes-Benz LG3000'.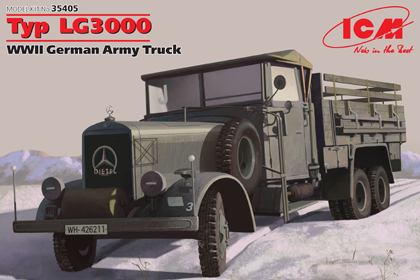 At first, Daimler-Benz was not involved in the development of any three-axle cross-country lorry in the 3 ton class. Generally, Daimler-Benz maintained to be present in all relevant motor vehicle classes. Therefore, an own three-axle cross-country lorry of the 3 ton class was developed beginning in 1934.
This type was designated Mercedes-Benz LG63. The first three testing vehicles were finished already in 1934. In 1935, further seven vehicles followed. In this time, rearmament of the German army was started in larger scales. The result was, that the so far accepted companies could not produce the demanded quantities of cross-country lorries in the 3 ton class.
Finally, the Wehrmacht took notice of the Mercedes-Bent LG63. Serial production of the vehicle, now designated Mercedes-Benz LG3000, started in 1936.
Manufacturer