This is the Tamiya 35 372 kit in 1/35 scale, of the 'Russian Heavy Tank KV-1 Model 1941 (Early production)'.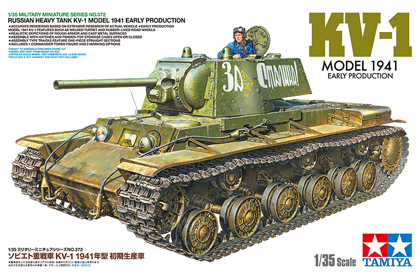 History
The Soviet KV-1 was officially adopted in 1939 and went through a number of variants. Model 1941 KV-1s employed the 76.2mm ZIS-5 gun, which could tear through the armor on contemporary German tanks.
The early production variants had a welded turret with armor up to 75mm thick, and hung tough in fierce fighting with German armor following the Nazi German invasion of the Soviet Union in June 1941, contributing to the Soviet resistance that would eventually turn the tables and push back the German advance.
Source: Tamiya website
Manufacturer