This is the Trumpeter 00358 kit in 1/35 scale, of the 'Russian Heavy Tank, KV-1 model 1942 simplified turret'.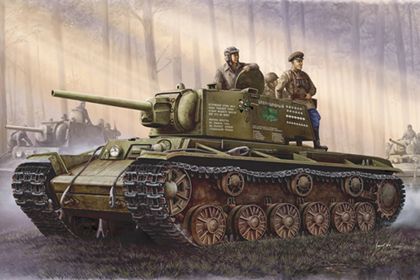 History
Because the additional armor in KV-1 type manufacturing craft is trivial and produce the efficiency lowly, therefore a kind of new KV-1 appeared again, this kind of is called M KV-1 1942 the characteristics of types consist in the armor that enhance completely with then increase production efficiency for the simplification of the purpose designs.
The bodywork armor was again 75 millimeters of to increase 90 millimeters of, dry by heat the most thick place in armor of the tower attains 120 millimeters.
Manufacturer
Where I got it