This is the Trumpeter 00356 kit in 1/35 scale, of the 'Russian Heavy Tank, KV-1 model 1941 small turret'.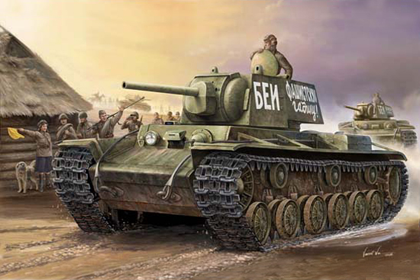 History
The KV type tank that research to manufacture wins in the competition of the heavy type tank from the factory of Kirov in 1939, ising named after KV-1.
KV-1 the beginning batch quantity produces in 1942 February, at the beginning of the production model number calls the KV-1 model 1941 "small turret", first material in KV-1 types L-11s 76.2mm of artillery; July of 1940, the heavy type in the series of KV tank production be transfered by the factory of Kirov the 100 factory production, henceforth the KV-1 that produce all changed to pack better types F-32s in function 76.2mm of artillery.
Manufacturer
Where I got it