This is the Tamiya 35 093-1600 kit in 1/35 scale, of the 'Russian Tank Destroyer, SU-122'.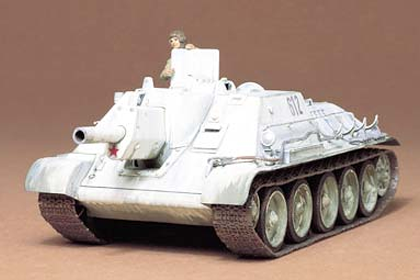 History
Victorious At Kursk
– The Russian T34 tank is known as a masterpiece. Based on the same chassis, the SU-122 featured a secured, wedge-shape fighting compartment, and was armed with a massive 122mm howitzer. The designation of SU-122 comes from the following; "SU" stands for Samokhodnaya Ustanovka (in Russian) meaning self propelled and "122" stands for the armament.
As Russian forces were forced to retreat from the relentless German blitzkrieg, large quantities of T34 and other tanks were produced in preparation of a counter attack. At the same time, Russian army urgently developed a new self-propelled gun, the SU-122. This tank featured a newly designed 122mm self-propelled howitzer and its production began in October 1942 at Tankograd in the Ural mountains. As the T34's chassis and its mass production system was applied to SU-122, the first test models were amazingly completed with great speed taking approximately one month.
From there, the first lot of SU-122s were sent straight to the Leningrad front in January 1943. From July 1943, they saw action in the Battle of Kursk. The SU-122 with its 23 caliber 122mm howitzer fought with all its might against Panther and Tiger tanks and went on to superbly win a glorious victory. In following the success at Kursk, the SU-122 set the foundation on where other tanks such as the SU-85, SU-100, JSU-122, and JSU-152 were built upon.
Manufacturer
Where I got it