This is the Tamiya 35 370 kit in 1/35 scale, of the 'German Tank Destroyer Marder I'.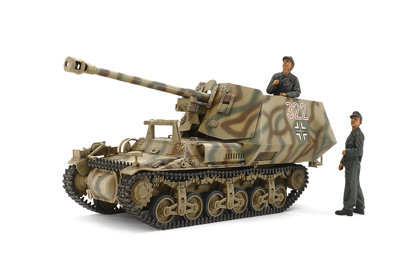 History
With the fall of France in June 1940 Nazi Germany came into not only new territory, but also a large amount of captured materiel.
Many of the French armored vehicles were pressed into German service, including the Marder I. It was based upon a late-1930s Lorraine tractor vehicle, paired with the German 7.5cm anti-tank gun and based in a new fighting compartment installed on top.
The Marder I fought on numerous fronts in WWII and its offensive potential made it a foe for Allied forces to fear.
Source: Tamiya website
Manufacturer