This is the Tamiya 35 353 kit in 1/35 scale, of the 'German Brummbär (Late production)'.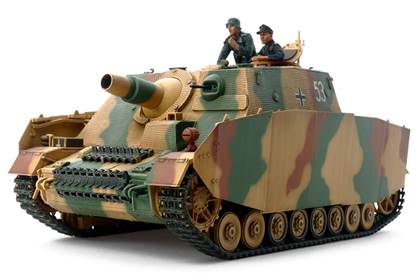 History
Developed for infantry support during WWII, the Assault Tank IV married the trusty Pz.Kpfw.IV chassis with a simple fighting compartment featuring 100mm of front and 50mm of side armor, plus a high-powered 15cm gun that could defeat 160mm of 30-degree armor from 5km.
Its variants can largely be grouped into early, mid and late production types, the latter of which was most numerous with 160 examples manufactured between May 1944 and March 1945. Feedback from crews of earlier Brummbärs had led to new a fighting compartment design and cupola, plus partial use of steel road wheels.
Brummbärs were assigned to their own dedicated Assault Tank Battalions and fought on the Eastern Front and in Italy as the war drew to its conclusion.
Source: Tamiya website
Manufacturer