This is the Tamiya 35 237-3900 kit in 1/35 scale, of the 'German Möbelwagen 3,7cm FlaK auf Fgst Pz.Kpfw.IV (Sf)'.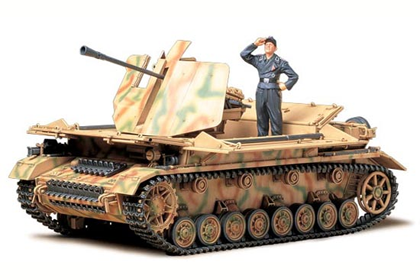 History
In the latter half of World War II, the Wehrmacht, having lost air superiority to the Allies, turned to the development of anti-aircraft vehicles. The first vehicle to use the chassis of the Panzer IV tank as a base was the Self Propelled Anti-Aircraft Gun Mobelwagen.
The mass-production model started to be manufactured in February 1944. It was equipped with a powerful 3.7 FlaK 43 cannon capable of firing 250 shots/min, and thick armored plates surrounding the upper part of the vehicle, which could be raised or lowered for horizontal firing.
By 1945, a total of 240 vehicles were produced, most of which were deployed to the western front, providing a vicious defense against approaching fighters and bombers of the Allies.
Manufacturer
Where I got it