This is the Dragon 6463 kit in 1/35 scale, of the 'German Panzerkampfwagen III, Ausf. J – Initial production'.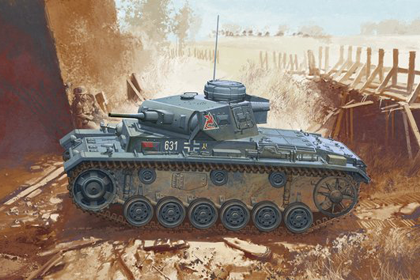 History
The Panzer III
was Germany's main battle tank for the first couple of years of WWII, with earlier Panzer IV variants serving primarily as close-support weapons. However, after Pz.Kpfw.III tanks began encountering more heavily armored T-34 and KV-1 tanks during the invasion of Russia, existing Panzer III models were found to be inadequate for the task.
One solution was to up-gun the tank with a longer and more powerful 5cm KwK 38 L/42 cannon, and to add more armor to the vehicle. Thus the Panzer III Ausf. J was born. It featured 50mm-thick solid armor plates on the front and rear of the hull, an increase from the previous 30mm-thick armor plates.
Among other modifications, the new armor resulted in a ball-mount MG being fitted on the front superstructure and a redesigned driver's visor.
Manufacturer
Where I got it