This is the Trumpeter 01567 kit in 1/35 scale, of the 'Russian Heavy Tank, KV-1S/85'.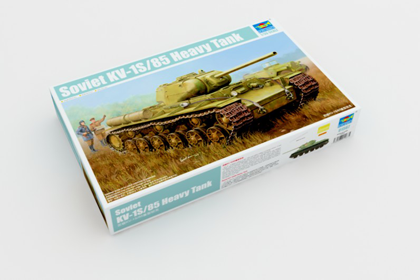 History
KV-1S – A lighter variant of late 1942 with higher speed, but thinner armour. A new, smaller, cast turret and redesigned rear hull were used. 1370 were built.
In response to criticisms, the lighter KV-1S (Russian language: КВ-1С) was released, with thinner armour and a smaller, lower turret in order to reclaim some speed. Importantly, the KV-1S also had a commander's cupola with all-around vision blocks, a first for a Soviet heavy tank.
However, the thinning-out of the armor called into question why the tank was being produced at all, when the T-34 could seemingly do everything the KV could do and much more cheaply. The Soviet heavy tank program was close to cancellation in mid-1943.
Manufacturer
Where I got it