This is the Dragon 6259 kit in 1/35 scale, of the 'German 15cm s.IG.33 (Sf) auf Pz.Kpfw.I Ausf.B', sometimes referred to as the Sturmpanzer I Bison.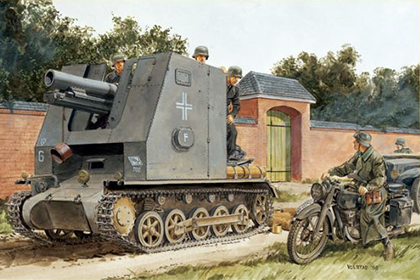 History
The Panzer I formed the nucleus of Germany's embryonic tank formations, but its light armor and light armament meant it was outdated by the start of WWII. Despite being made redundant as a gun tank, the chassis of the Panzer I was utilized in a number of alternative roles, including that of a self-propelled howitzer.
It was recognized early on that mobile artillery could provide invaluable fire support to tank units, so the mounting of a 150mm s.IG.33 infantry gun resulted in a vehicle known as an s.IG.33 (Sf) auf Pz.Kpfw.I Ausf.B. The gun was mounted in a tall, boxy superstructure, though the chassis of the Panzer I was overstressed by the extra weight. The armored shield was only 10mm thick and could only offer front and side protection, plus there was no space for spare ammunition to be carried.
Ultimately, this ungainly and top-heavy artillery piece wasn't a great success and only 38 were converted in February 1940 by Alkett. These guns served in the Battle of France and beyond, though as the war progressed, the 150mm s.IG.33 gun would be mounted on alternative chassis too.
Manufacturer
Where I got it