This is the Tamiya 35 303-4300 kit in 1/35 scale, of the 'Russian Heavy Self Propelled Gun, JSU-152'.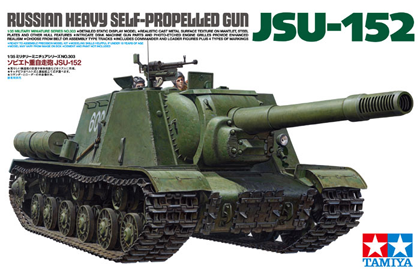 History
Beast Killer – In the latter half of WWII, in order to counter German tanks, the Russian army used the JS-2 heavy tank's chassis to create the JSU-152 heavy self-propelled gun. It featured improved armor protection and a simple superstructure which housed a massive ML-20S 152mm howitzer.
They officially entered combat in the summer of 1944 during Operation Bagration, where Russian soldiers gave it the nickname Zveroboy (beast killer) due to its ability to destroy Tiger I and Panther tanks. The JSU-152 proved its effectiveness against both tanks and fortifications all the way to the Battle of Berlin and greatly contributed to the Russian victory.
Manufacturer
Where I got it