This is the Tamiya 35 295-5000 kit in 1/35 scale, of the 'German Sd.Kfz.186 Panzerjäger (Jagdtiger) – Early production'.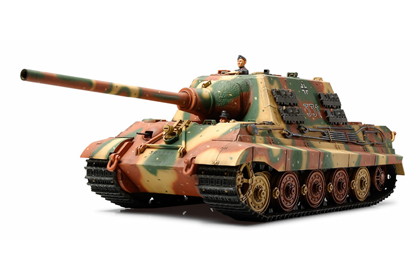 History
The Strongest, Last Tiger
– The middle stages of WWII saw the production of the world's heaviest and most powerful tank of its time, the Jagdtiger.
Featuring on the Jagdtiger was a long barreled 12.8cm gun which showed great offensive capabilities. While based on the King Tiger's chassis, the newly designed Jagdtiger was approximately 30cm longer. Along with its new design, the large sized fixed fighting compartment was given a 250mm thick front defensive armament which was unique to this tank.
First appearing at the Ardennes offensive in December 1944, and Jagdtiger mostly fought against Allied forces in Western Germany from January 1945. Until the end of the war, the Jagdtiger continued to menace and ambush Allied forces and U.S Sherman tanks from distances of 3,000m or more.
Manufacturer
Where I got it