This is the MiniArt 35162 kit in 1/35 scale, of the 'German Pz.Kpfw.III Ausf. B'.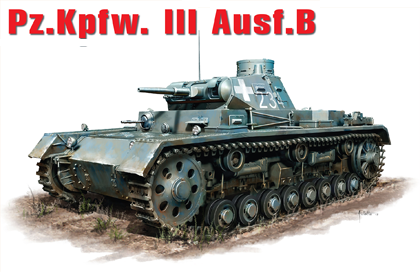 History
The Ausf. В was the second attempt at a design solution for a tank in the 15-ton class. Only a small number of these design series vehicles were produced to provide a gun-armed Pz.Kpfw for training.
The design of the suspension of the Ausf. В was completely different from that of the Ausf. A. In place of the five road wheels with coil springs, the Ausf. В had eight road wheels per side, divided into pairs, with long leaf springs supporting a pair of road wheels at each end. Further improvements were made by increasing the number of return rollers to three, redesigning the cupola, and altering the rear deck and engine air louvres.
The Ausf. В were issued to Panzer units in 1937. After action in Poland, they were all removed from combatant units in February 1940 because of their unsatisfactory suspension and 15mm armour. In October 1940, the five Ausf. В Fahrgestell, which had been used for the experimental (0-Serie) series of the Sturmgeschütz, were returned to the Armoured troops and used as training vehicles.
Manufacturer
Where I got it