This is the Tamiya 35 290-3600 kit in 1/35 scale, of the 'German Panzerkampfwagen III, Ausf. N'.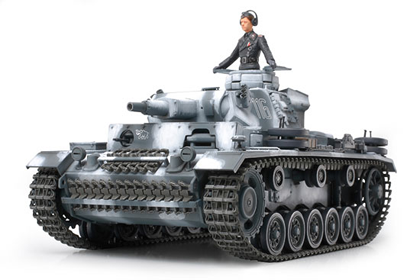 History
During the middles stages of WWII, most German military vehicles had trouble providing adequate support to troops, therefore the N type tank was built to help solve this problem. The N type tank replaced its Marder III main battery with a 7.5cm gun which could fire high-performance high-explosive bursting projectile shells.
From June 1942 through to August 1943, existing J, L, & M models also received these upgrades and 663 tanks were fitted, and another 37 were also upgraded later in 1944. In the summer of 1942 these tanks appeared on the battlefield with their highly explosive shells, and they proved to be highly efficient in their role of reinforcing the ground troops.
They were deployed into newly organized heavy tank battalions, to make up for the lack of Tiger I tanks. As a support tank, the N type was easy to manage and very reliable, and in the latter half of WWII it fought at many fronts.
Manufacturer
Where I got it