This is the Bronco 35114 kit in 1/35 scale, of the 'German 88mm FlaK 41 Anti-Aircraft Gun w/Sd.Ah.202 Trailer'.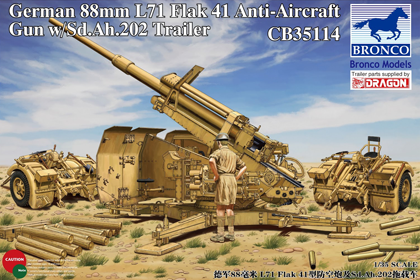 History
Initially, anti-aircraft artillery guns of World War I were adaptations of existing medium-caliber weapons, mounted to allow fire at higher angles. By 1915, the German command realized that these were useless for anything beyond deterrence, even against the vulnerable balloons and slow-moving aircraft of the period.
With the increase of aircraft performance, many armies developed dedicated anti-aircraft guns with a high muzzle velocity – allowing the projectiles to reach greater altitudes. It was this muzzle velocity, combined with a projectile of high weight, that made the 8.8 cm (88mm or "acht-acht") FlaK one of the great World War II anti-tank guns.
The first such German gun was introduced in 1917, and it used the 88mm caliber, common in the Kaiserliche Marine German navy.
Manufacturer
Where I got it