This is the Italeri 6487 kit in 1/35 scale, of the 'German Panzerkampfwagen VI, Tiger I – Hybrid'.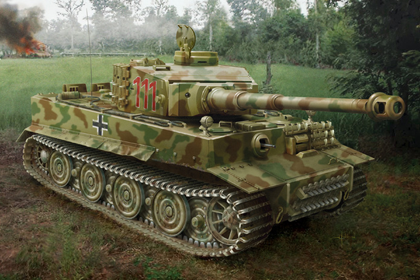 History
During the last years of the war, the Germans, to make up for their scarce production output, reconditioned vehicles that were worn-out by the war use.
Period photos show that at the moment of Germany's defeat, many vehicles had been collected in factories, and were ready to be put back in operation by replacing worn-out or combat-damaged parts. Reliable sources confirm that the last Tigers to come out of assembly lines were reconstructed with salvaged materials: 54 hulls and 32 turrets of the first series, possibly from tanks used in training units.Their wheels were replaced by the latest, full-metal ones, and on some tanks the anti-magnetic "Zimmerit" paste was applied directly in the factory. These tanks were assigned to training schools to form new crews.
In the last weeks of war, they took part in the last engagements of the various Kampfgruppe (combat groups formed with units coming from different detachments) that were trying to stop the Allied units swarming over Germany from East and West.
Manufacturer