This is the Trumpeter 05568 kit in 1/35 scale, of the 'Russian SU-152, Late version'.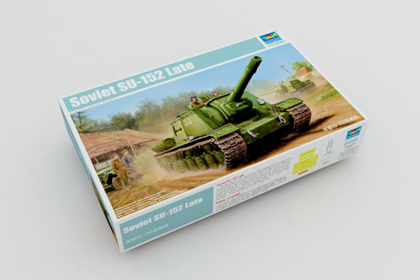 History
The SU-152 (СУ-152) was a Soviet self-propelled heavy howitzer used during World War II. It mounted a 152mm gun-howitzer on the chassis of a KV-1S heavy tank.
Later production used IS tank chassis and was re-designated as ISU-152. Because of its adopted role of as an impromptu heavy tank destroyer, capable of knocking out the heaviest German armoured vehicles — Tiger, Panther and Elefant tank destroyers—it was nicknamed Zveroboy, "beast killer".
Manufacturer