This is the MiniArt 35036 kit in 1/35 scale, of the 'Russian Self Propelled Gun, SU-76M'.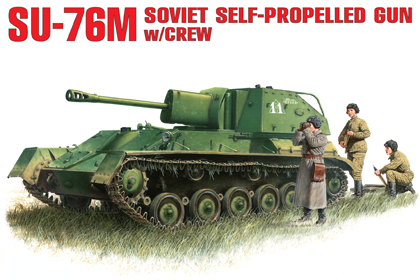 History
The SU-76 (Samokhodnaya Ustanovka 76) was a Soviet self-propelled gun used during and after World War II. The SU-76 was based on a lengthened and widened version of the T-70 tank chassis.
Its simple construction made it the second most produced Soviet armoured vehicle of World War II, after the T-34 tank.
Crews loved this vehicle for its simplicity, reliability, and ease of use. Because of this and the steering which was regarded as cumbersome the vehicle was (un)affectionately called suka ("bitch"), Suchka ("little bitch") by its crews.
Manufacturer
Where I got it