This is the Trumpeter 05575 kit in 1/35 scale, of the 'Russian Project 704 SPH'.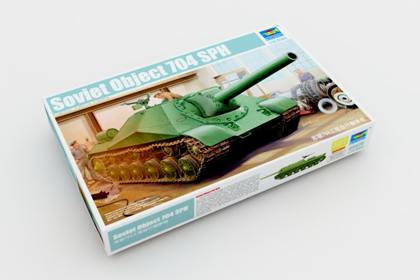 History
One prototype, developed in 1945. It used elements of the IS-2 and IS-3 tanks. The overall height of the vehicle was reduced to 2240mm, which was compensated with an increased width of the superstructure.The factory designation was Object 704 (Объект 704). It was armed with the 152.4mm ML-20SM model 1944 (МЛ-20СМ обр. 1944 г) gun-howitzer, with a barrel length of over 4.5 meters (29.6 calibers) and no muzzle brake, which further increased the firepower of the gun. It had a maximum range of 13,000 meters.
The self-propelled gun carried 20 rounds of two piece (shell and charge) armor-piercing and high explosive ammunition. The secondary armament of the fighting vehicle consisted of two 12.7 x 108mm DShK machine guns, one anti-aircraft and one co-axial.
Manufacturer
Where I got it