This is the Trumpeter 00312 kit in 1/35 scale, of the Russian Heavy Tank, KV-2′.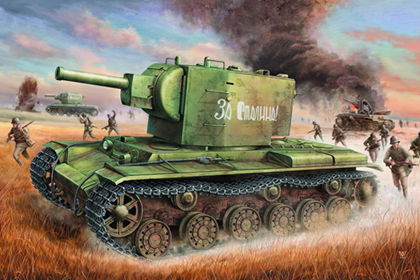 History
Produce at the same time in the M1941 KV-1 type, the KV-2 (Also be called the year in M1941 KV-2 type) also threw in the production.
The KV-2 characteristic is its quick-fried tower shape. The quick-fried tower that equip 152 millimeters of howitzers reports the hexagon keeps the square form, resembling an enormous box.
But, it is said because of the excess, if not on the horizontal plane, dry by heat the tower connect to revolve all and very difficult. Because of such weakness, KV-2 is in actual battle, only used for proceeding to the virtuous soldier the thermodynamic power inhibit, but need not in the battlefield that hour of backstroke break war.
Manufacturer
Where I got it