This is the Tamiya 35327-3800 kit in 1/35 scale, of the 'Russian BT-7, Model 1937'.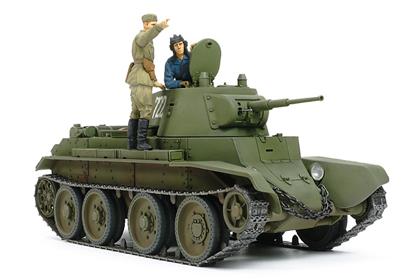 History
An Important Step in Russian Tank Evolution – The BT-7 was a highly-maneuverable tank with a powerful 45mm main gun in addition to sloped front armor, which made it the pillar of the Russian tank divisions.
The 1937 model was a defensive upgrade to its predecessors, featuring as it did sloped armor all around the body in place of the previous flat version.
This design proved to be successful enough for use in its successor, the T-34.
Manufacturer
Where I got it