This is the Tamiya 35 309-3800 kit in 1/35 scale, of the 'Russian BT-7, Model 1935'.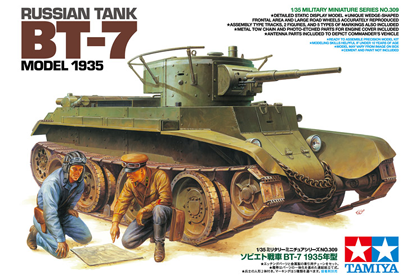 History
The Russian Fast Tank
– The BT-7 was a Russian tank produced from 1935 which incorporated some design features from tanks developed by American engineer Walter Christie. "BT" stood for "Bystrokhodny Tank (Fast Tank)" and the tank featured an excellent maneuverability.
Equipped with a 47mm main gun, it was one of the better-armed tanks of that period and it also had sloped frontal armor, a feature that would make its way into later tanks such as the T-34.
BT-7s were first deployed during the Spanish Civil War and also took part in battles against German forces on the Eastern Front until enough T-34s became available to replace them.
Manufacturer
Where I got it