This is the Tamiya 35 177-4100 kit in 1/35 scale, of the 'German Sturmtiger, 38cm Assault Mortar'.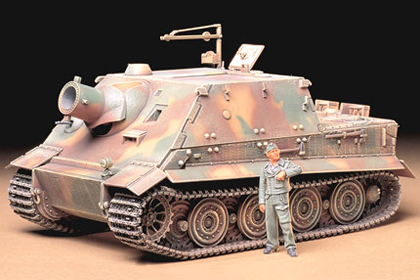 History
A very rare variant of the much feared Tiger I heavy tank, was the "Sturmtiger" assault weapon that mounted a gigantic 38cm caliber mortar on the tank chassis. Development was initiated in August 1943 and was intended for uses against heavily fortified areas. The short barreled L/5.4, type RW61 mortar was originally developed by Rheinmetall-Borsig, for the German navy's land-based protection against an enemy submarine attack.
In order to withstand the heavy recoil of up to 40 tons, the Tiger I's sturdy chassis was selected. A decision was made to use only those chassis/hulls that were sent back from the front, so that new production of the tank would not be affected.
A fighting compartment was formed of a boxlike superstructure which was bolted to the lower hull itself. Its armor plate measured 150mm thick at the front and 80mm on the sides. Later, a steel ring counterweight was added to the mouth of the mortar barrel on some vehicles to make elevation aiming easier.
The mortar's huge self propelled rocket projectile was 149cm long and weighed 330kg. For loading these heavy rockets aboard, a hand cranked crane was mounted to the right aft side of the upper hull. Due to the rocket's size, storage space was very limited and only 14 shells could be carried.
Conversion production of the Sturmtiger began in August 1944, and by the end of December a total of 18 units had been completed and sent to the front for action during the final stage of the conflict.
Manufacturer
Where I got it