This is the Dragon 6684 kit in 1/35 scale, of the 'German RSO/03 w/5cm PaK 38'.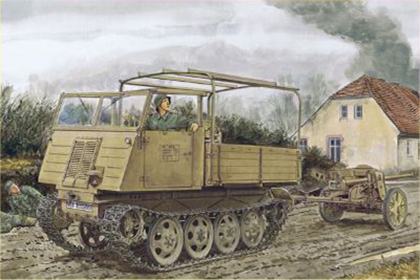 History
The Eastern Front presented many difficulties during WWII, one of which was the harsh weather. With few well-paved roads available, rain and snow could render the terrain almost impassable, as Germany found out during their first winter in 1941-42.
For such difficult conditions, Germany realized it needed special tracked vehicles to traverse Russia's roads and countryside. One solution offered up was the Raupenschlepper Ost (literally "Caterpillar Tractor East", or "RSO" for short). The RSO, based on the Steyr 1500A light truck, was initially conceived as a prime mover and tractor for towing artillery pieces, although it was eventually put to many uses.
The fully tracked vehicle performed very well in the muddy conditions, and various manufacturers eventually produced 23,000 vehicles before the war ended. The RSO/03 was a later-production variant that had a simple metal cab with a soft-top roof. It was powered to a top speed of 30km/h by a Deutz diesel engine. A pintle was fitted at the rear for towing artillery pieces.
Manufacturer
Where I got it