This is the Dragon 6291 kit in 1/35 scale, of the 'German Panzerkampfwagen IV, Ausf. C'.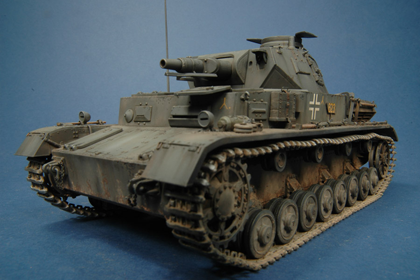 History
The Panzerkampfwagen IV (Pz.Kpfw.IV), more commonly referred to as the Panzer IV, was a tank developed by Germany and used extensively in World War II. It was designed initially as an infantry-support medium tank, to work in conjunction with the anti-tank Pzkpfw III. Later in the war, it was up-gunned and up-armored, and took over the tank-fighting role.
The Panzer IV was the most common German tank of World War II, and was used as the base for many other fighting vehicles, such as tank destroyers and self-propelled antiaircraft gun.
The Panzer IV has the distinction of being the only German tank to remain in continuous production throughout all of WWII, with over 9,000 produced since 1939. Only 138 "C" versions were made between 1938 and 1939.
Manufacturer
Where I got it