This is the Tamiya 35 315 kit in 1/35 scale, of the 'German Jerry Can set (Early type)'.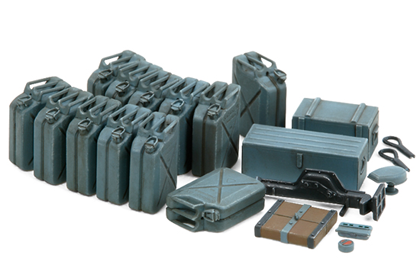 History
Essential Equipment for Early WWII German Vehicles
– Jerry cans used by the German army featured a functional design. Early-type cans featured simple cross-shaped indentations for structural reinforcement while later types had more complex indentation patterns.
Early-type cans were seen from the Polish campaign to North Africa and the beginning of the Russian campaign, and some were continuously used until the latter half of the war.
Manufacturer
Where I got it