This is the Tamiya 35 291-3000 kit in 1/35 scale, of the 'German 3 Ton 4×2 Cargo Truck'.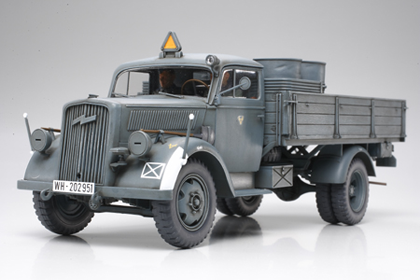 History
Ideal choice for German Army – The German army in WWII used a wide variety of wheeled vehicles as part of their overall strategy of fast mechanized warfare. Among the most widely used was the 3 ton 4×2 Cargo Truck, a truck design that was first produced in the 1930s. From 1937 to 1944, over 78,000 medium 3 ton 4×2 Cargo Trucks were produced and they became the most recognized German army truck in WWII.
Featuring a dependable 6-cylinder gasoline engine, the 3 ton 4×2 Cargo Truck could take on a very large payload disproportionate to its size. It also featured a durable rear wheel-drive chassis with superior off-road handling and a large cargo area, which enabled superb load-carrying capacity.
They proved to be not only extremely reliable, but also very versatile, and were employed in a wide variety of roles, including fuel truck, ambulance, radio truck, as well as general-purpose cargo truck and was until the end of war used to transport troops and supplies on all fronts.
Manufacturer
Where I got it