This is the Tamiya 35 300 kit in 1/35 scale, of the 'British Matilda MK.III/IV'.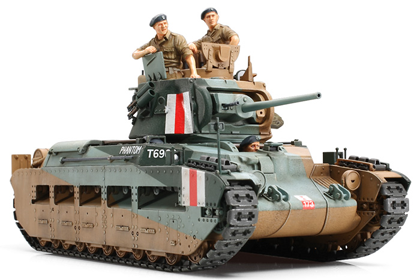 History
"Queen of the Desert"
– The Matilda was developed as a heavily armored infantry tank and was the British Army's main tank in North Africa during WWII.
The Matilda swept aside Italian opponents and was respectfully called the "Queen of the Desert" by German forces. During Operation Battleaxe to lift the siege of Tobruk in June 1941, German forces famously used their 88mm AA guns in the anti-tank role as they were the only effective counter against Matildas.
The Matilda has written her name into the history books as a highly effective tank which continually proved her worth during many fierce battles throughout North Africa.
Manufacturer
Where I got it