This is the Trumpeter 01569 kit in 1/35 scale, of the 'Russian Heavy Tank, KV-85'.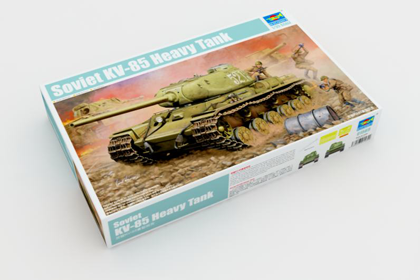 History
A stopgap upgrade to the KV series was the short-lived KV-85 or Objekt 239. This was a KV-1S with a new turret designed for the IS-85, mounting the same 85mm D-5T gun as the SU-85 and early versions of the T-34-85.
Already-high demand for the gun slowed production of the KV-85 tremendously, and only 148 were built before the KV design was replaced. The KV-85 was produced in the fall and winter of 1943-44; they were sent to the front as of September 1943, and production of the KV-85 was stopped by the spring of 1944 once the IS-2 entered full scale production.
Manufacturer