This is the Tamiya 35 168 kit in 1/35 scale, of the 'JGSDF Type 74 Tank, Winter version'.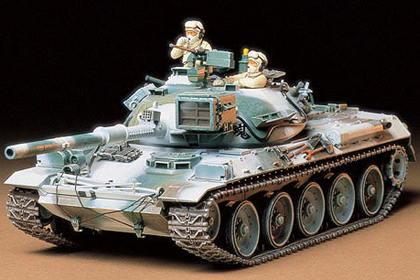 History
The Type 74 is a main battle tank (MBT) of the Japan Ground Self-Defense Force (JGSDF). It was built by Mitsubishi Heavy Industries as a replacement for the earlier Type 61.
It was based on the best features of a number of contemporary designs, placing it in the same class as the US M60 Patton or German Leopard 1. Like these designs, it mounts the M68 105mm gun.
The design did not enter widespread use until 1980, by which point other western forces were starting the introduction of much more capable designs.
Manufacturer