This is the Bronco 35103 kit in 1/35 scale, of the 'German Telemeter KDO Mod 40'.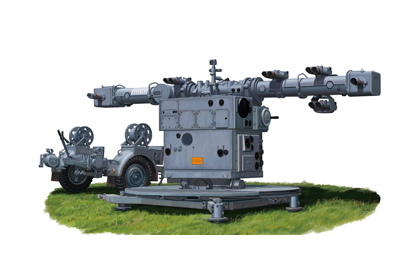 History
The Kommandogerät 40 was a director used principally for large anti-aircraft guns, such as the 8.8cm FlaK 36 or the 10.5cm FlaK 40.
Introduced by the German military in 1941 this small director was used by all three services and could be modified for use with almost any anti-aircraft weapon. In the field the director used a 5-man crew, two men are required to input azimuth and elevation data. A third man sets the slant range by means of a 4-meter stereo range finder which is mounted on top of the director. A fourth man sets the horizontal angle of approach, while the fifth man is a general operator. The time from first acquiring the target to firing the first round could be achieved in less than 30 seconds. The slant range could be up to 18,000 meters.
For transport the director is mounted on a Sd.Ah.52 special trailer, equipped with lifting devices, and towed by a light truck.
Manufacturer