This is the Tamiya 35 376 kit in 1/35 scale, of the 'American Tank Destroyer M18 Hellcat'.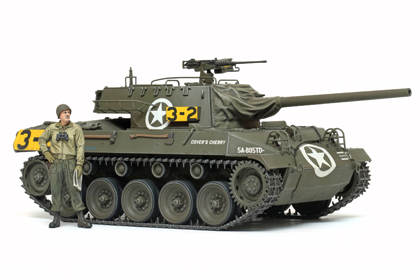 History
The M18 Hellcat was an American tank destroyer developed to counter the German Army tanks, and it featured an open top design turret and powerful 76mm gun, plus a main gun breech rotated 45 degrees around the gun barrel to save space in the turret interior.
It had a compact, lightweight hull, automatic transmission and the first torsion bar suspension seen on U.S. armor. Its radial 9-cylinder engine at the hull rear was capable of 80 km/h maximum speed which was the highest speed among tracked vehicles during WWII.
The production started in July, 1943 and the Hellcat was in service for the first time at the Italian Front in 1944. After that, this tank destroyer was deployed in the North-Western European and Pacific War theaters, notably besting the German Army tanks with super performance and firepower based on hit-and-run tactics. The Hellcat contributed to U.S. victory as a pioneer of tank destroyers.
Source: Tamiya website
Manufacturer